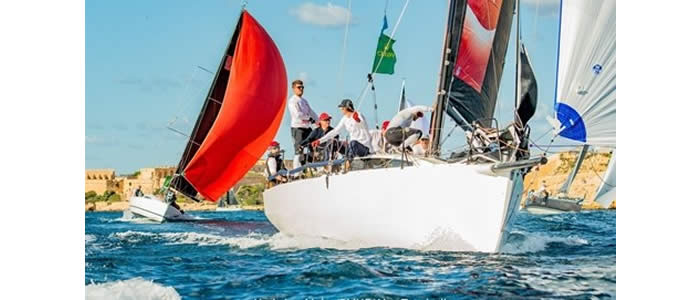 Sailing to success DENSO backs class winner at Rolex Middle Sea Race
Rossko, a high-performance yacht sponsored by DENSO, has taken a class win in one of the most renowned and challenging boat races in the world.
The JPK 1080 yacht, skippered by Timofey Zhbankov, was victorious in the IRC 6 class at the Rolex Middle Sea Race, a 606-nautical-mile championship that plots a circular route around Sicily in the Mediterranean Sea. It also finished fifth out of 50 boats in the overall standings.
Having set off on 17 October, Rossko arrived at the finish line in Malta after a total sailing time of five days, eleven hours and thirteen minutes – some two hours faster than the nearest competitor in the same class.
This is the second consecutive class win for Timofey and his team, which DENSO has supported for many years alongside GROUPAUTO International, an ITG that DENSO works with closely.
Navigating uncertain waters
Rossko took the lead in the water on the second day of the race, and never relinquished it, with excellent navigation and crew work ensuring it extended its advantage as the race wore on.
But even if the race itself was a smooth affair, it was the build-up where the real difficulty lay, due to the ongoing COVID-19 pandemic.
Preparations to hold the race had continued throughout the crisis, but there was always an air of uncertainty as to whether it would actually be able to go ahead.
Organisers had put full safety protocols in place and made special alterations to the Notice of Race – but all eyes were on the COVID transmission rate in Malta. Even with days to go, as the teams travelled by boat to the Royal Malta Yacht Club, there were no cast-iron guarantees.
So it was with a sense of relief that the race got underway – a testament to the determination of participants and organisers alike. "The desire to uphold the tradition of this international sporting event will stand it in good stead for the future," said a race statement. "The strength of purpose exhibited will undoubtedly inspire younger sailors to follow in the wake of their heroes and to continue the legacy."
Legendary status
The Rolex Middle Sea Race was founded in 1968 to provide a challenging offshore race in Mediterranean waters. Today the race is internationally renowned, and attracts attention and sponsorship from some of the world's biggest premium brands.
DENSO and GROUPAUTO International are proud to support the crew of Rossko and contribute to their experience of the race. Timofey Zhbankov summed up how he felt to be a part of it: "This is the second time we have won our class, but we come back every year because we want to win overall! It is a hard race physically but, also, psychologically. To keep concentration and also the right balance between rest and work is really hard. The Rolex Middle Sea Race is probably one of the hardest races in the world in that respect, so we are happy to have done so well."